Strength / Services
We at Bajaj Machines India (BMI) over the years have developed an unparalleled Respect & Admiration in the Industrial world based not just on the High Quality of products that we supply but also on the Customer Services that we provide.
We believe that in today's world Customer Service & On-Time Support is Extremely Important. To meet out the customer's requirement we have set up a strong Team of Engineers to study the Customer's Application / Problem, Design a Cost Effective Perfectly Engineered Solution with Drawings and then Executing the order smoothly in the desired time followed by Training before handing over.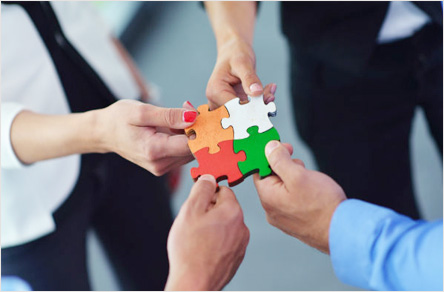 Manufacturing Excellence
---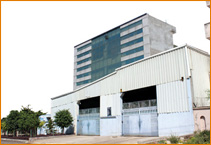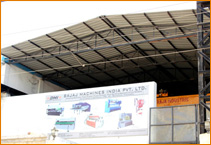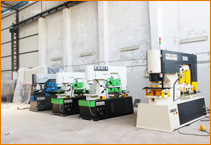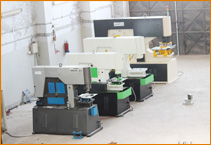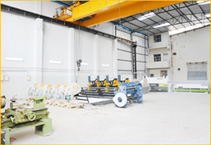 Design and Engineering
---
We have a team of 4 Dedicated designers assigned for a full time drafting of all the Parts of the machines with Special Dies and Tools as per the Customers request on their latest designing Software's such as Solidworks and CAD/CAM for most accurate and precision parts.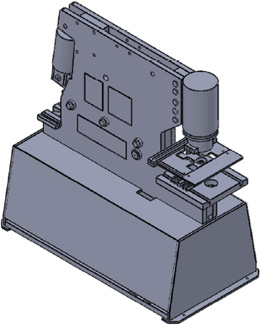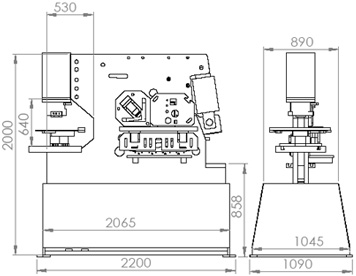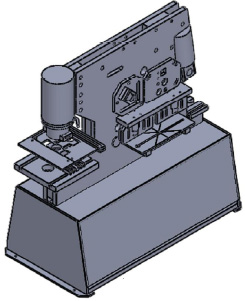 Quality Assurance
---
Bajaj Machines India strives to achieve best-in-class quality and reliability of performance of all products through a systematic approach that emphasizes quality at every stage of product development through manufacturing.
Before leaving the plant, the BMI Multi Steel Workers and Punching machines are passed through a series of quality assurance tests. Like Non – Stop running of the machines for Hours, Trying and testing all the work stations of the Multi Steel Worker Machine by and Cutting all types of samples and jobs on the machine and checking the quality of the blades and tools, keeping a check on the Temperature of Hydraulic Oils on Continuous Running of the machines, Checking of Sound and Leakages if any etc..
BMI has established a system of quality in line with the ISO 9001:2000. We are aspiring to be recognized as the quality manufacturers in the industry we serve by providing solutions to customer's problems by engineering and manufacturing quality machines at competitive price.
List of Machines Installed
---
Plasma and Oxy Fuel Cutting
1 No.
---
Lathe / Turning Centres
10 Nos.
---
Plano Millers
3 Nos.
---
Radial Drilling
3 Nos.
---
Boring Machine
1 No.
---
Shearing Machines
1 No.
---
CNC Press Brakes
1 No.
---
Shaper Machines
6 Nos.
---
Pillar Drill Machine
4 Nos.
---
Milling Machines
3 Nos.
---
Surface Grinder
2 Nos.
---
Pedestrial Grinder
3 Nos.
---
Welding Sets
4 Nos.
---
E.O.T. Crane 10 Ton, 15 Ton and 20 Ton
Manpower
---
BMI has team of dedicated and technically sound employees who work with efficient and advanced technology available for machine tool industry.
The culture motivates the young and enthusiastic team members to perform with higher degree of liberty and independence. A lean and horizontal organization structure allows each team member to play a role with his own ingredient of leadership and decision making skills.
Quality Certifications
---
The company is an ISO 9001 : 2000 Certified company and can also provide CE certification for its Products on Special request of its Customers.
Punch Lines
---
"Quality, Productivity, Safety is our Top Priority"
"Our Passionate Team is our Self Esteem"
"Our Good Service Support – Helps us Export"
"Transparent Business with Competitive Price makes Buying Easy, Simple and Nice"
"Maintenance Free Care Becomes Easy with Worldwide Available Spares"
"Electrical Connection and Ready for Operation"
"Compact Design – Working Fine"
"High Precision – Correct Decision"
"Dual Working – Multi Tasking"
"NO Foundation – Easy Installation"